Restaurants & Bars
Enjoy fine dining at our San Pedro de Atacama restaurant and bar
Kunza Restaurant tantalizes taste buds with a fusion of local ingredients and haute cuisine techniques, serving buffet breakfast from 7:00 am to 10:30 am, and exclusive lunches and dinners on terraces from 1:00 pm to 10:00 pm. The Lobby Bar offers a delightful menu of shared dishes, complemented by a diverse cocktail selection and an extensive winery with fine Chilean wines. The tranquil Spa Bar, open from 12:00 pm to 11:00 pm, enhances relaxation with refreshing salads, satisfying sandwiches, and local-infused juices, wines, and cocktails, including their standout Pisco Sour.
Culinary experience
At Hotel Cumbres San Pedro de Atacama, dining options cater to both hotel guests and non-residents, ensuring an exceptional culinary experience.
Slideshow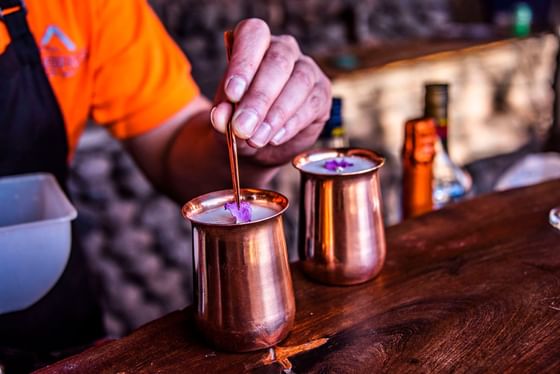 Events & Meetings
We have a complete equipment with personalized service and professional experience to serve all kinds of events.
Call us for more information: ​(+56) 55 285 2160