Points of interest
Discover all the things to do in San Pedro de Atacama
At Hotel Cumbres San Pedro de Atacama, we welcome you to experience the richness of the region with our team of highly qualified guides, leading you to explore the abundant natural and cultural wonders. Equipped with specialized vehicles, each excursion becomes a unique and unforgettable adventure through the desert landscape.
Choose from a variety of tours, encompassing geysers, salt flats, altiplanic lagoons, and the diverse geological, archaeological, and geographical attractions of the area. Enhance your journey with gourmet gastronomic delights, expertly prepared in our esteemed Kunza Restaurant, for a truly immersive experience.
Tatio Geysers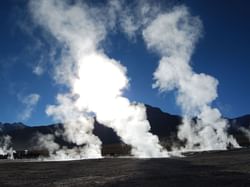 Experience the geothermal wonders of geysers, fumaroles, and mud baths at dawn. After breakfast, relax in a rustic hot spring pool before continuing to the town of Machuca.
Read more
Plan your visits with us
SCHEDULE SUBJECT TO CHANGES, CONFIRM IN THE EXCURSIONS AREA THE WEEKLY PROGRAM
MONDAY
TUESDAY
WEDNESDAY
THURSDAY
FRIDAY
SATURDAY
SUNDAY
FULL DAY
Tatio Geisers
Pecan Monks Excursion
Tatio Geisers
Pecan Monks Excursion
Tatio Geisers
Valley of the Rainbow
Tatio Geisers
HALF DAY
AM
Chaxa Lagoon
Valley of the Rainbow
Mtb Ayllus
Valley of the Rainbow
Hiking
Guatin
Mtb Ayllus
HALF DAY
PM
Cejar Lagoon
Valley of the Moon
Cejar Lagoon
Chaxa Lagoon
Valley of the Moon
Chaxa Lagoon
Valley of the Moon
NIGHT
Astronomic Tour
Astronomic Tour
Astronomic Tour
Astronomic Tour
Astronomic Tour
Astronomic Tour
Astronomic Tour
*FOR AM EXCURSIONS, REGISTRATION IS UNTIL 20:00 HRS. THE PREVIOUS DAY
*FOR PM TOURS, REGISTRATION IS UNTIL 12:00 PM. SAME DAY
RECOMMENDATIONS
The cancellation of AM excursions must be notified at the excursion center before 7:00 p.m. of the day before and before 10:00 a.m. of the same day for the cancellation of excursions PM. Otherwise, it will charge 50% of the total value of each excursion for paid excursions, and they will be considered carried out in the event that they are excursions included in your program.
The age limits are for regular excursions to heights above 4,000 meters above sea level, it is not recommended for children under 12 years of age and adults over 65 years of age, as well as restrictions for pregnant women and certain diseases and/or medical conditions.
The start and end times of the excursions may vary according to the season of the year, confirm schedules in the office of excursions.
All regular excursions require a minimum of 4 passengers with the exception of passengers with All-inclusive program.